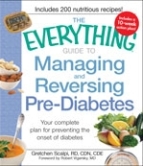 The EVERYTHING Guide to Managing and Reversing Pre-Diabetes 2nd Ed.
Gretchen Scalpi, RD, CDN, CDE is the author of "The Everything Guide to Managing and Reversing Pre-Diabetes: Your complete plan for preventing the onset of Diabetes (2nd Edition)".  A pre-diabetes diagnosis is a wake-up call. And with this book, you can make the lifestyle changes you need to ensure your good health. The book guides you not only through what to eat and when, but how to prepare delicious, healthy meals such as:
Honey-Oat Bran Bread
Layered Veggie Casserole
Cold Roasted Red Pepper Soup
Roasted Garlic Mashed Potatoes
Strawberry-Banana Sorbet
Reversing a diagnosis can be daunting, but with this guide, you learn to take the process one step–and one meal–at a time.
The Table Of Contents include:
Foreword
Introduction
What Is Pre-Diabetes?
Diagnosing Pre-Diabetes
Your Action Plan for Pre-Diabetes
Exercise:  Essential for Your Success
What Can I Eat?
Translating Nutrition into Real Meals
Breakfast Fare
Soups
Meat Dishes
Poultry Dishes
Fish and Seafood Dishes
Casseroles and Stews
Pasta, Rice, Trains, and Beans
Vegetable Sides
Salads
Salad Dressings, Salsas, and Sauces
Salt-Free Spice Mixes
Breads and Muffins
Reduced-Carbohydrate Desserts
Appendix A:  Your 10-Week Plan to Kick Pre-Diabetes!
Appendix B:  Resources
Standard U.S./Metric Measurement Conversions
Index
The "An Everything­® Series of Books" are published by Adams Media, a division of F+W Medical, Inc.