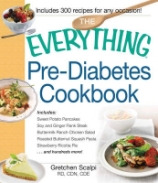 Gretchen Scalpi, RD, CDN, CDE is the author of the book "The EVERYTHING Pre-Diabetes Cookbook".  A diagnosis of pre-diabetes does not mean that diabetes is inevitable.  Changing your diet and activity level can help you to avoid type 2 diabetes altogether.  In "The EVERYTHING Pre-Diabetes Cookbook", you'll find more than 300 recipes for delicious, healthy meals the whole family will love.  Also included is a 10-week diet and exercise plan that will help you lower your diabetes risk.
The Table Of Contents include:
Introduction
Managing and Reversing Pre-Diabetes
Breakfast and Brunch
Appetizers
Soups
Beef, Pork, and Lamb
Chicken and Turkey
Fish and Seafood
Casseroles, Soups, and Stews
Pasta, Rice, Grains, and Beans
Vegetable Sides
Sales
Salad Dressings, Salsas, and Sauces
Breads and Muffins
Desserts
Salt-Free Spice Mixes
Appendix A:  10 Week Plan to Kick Pre-Diabetes!
Appendix B:  Resources
Index
The "An Everything­® Series of Books" are published by Adams Media, a division of F+W Medical, Inc.