Quick Start Gluten-Free Recipes for Healthy Meals: Gluten-Free Lifestyle Learning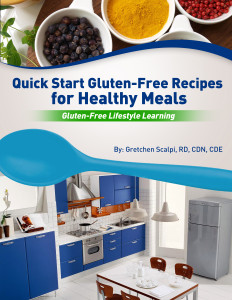 Buy for your Kindle or Kindle app at Amazon.com!
Gretchen Scalpi has spent her career working to promote good nutrition and wellness as an entrepreneur, author, health and wellness coach, consultant and speaker. She is a Registered Dietitian Nutritionist, Certified LEAP Therapist (Lifestyle Eating and Performance), Certified Diabetes Educator and Certified Wellcoach®.
Gretchen received a BS in Human Nutrition and Food Service Management from Marymount College in Tarrytown, NY. She worked as Chief Clinical Dietitian in an area hospital for 25 years, and has taught nutrition and food services courses in two area community colleges.
In addition to her credentials Gretchen had a very compelling reason for creating and publishing these recipes. She has celiac disease and knows just how challenging selecting food and staying healthy can be! She was stunned when she received her diagnosis. She had none of the classic symptoms often associated with celiac disease because she has what is known as "silent celiac disease." Some people have symptoms and others don't.
In the time during diagnosis Gretchen has learned how to take control of her condition while still living a happy and healthy life. That is why she created these recipes and The Gluten-Free Bootcamp at Gluten-Free Lifestyle Living.
This e-book contains 29 of easy-to-make recipes that are gluten free. The recipes include:
Breakfast
Soup
Entrees
Vegetables & Grains
Salads
Bread
Dessert
Miscellaneous
You also receive instructions and advice for baking with gluten-free flour blends.  You can purchase your copy for your Kindle or Kindle app at Amazon.com today!