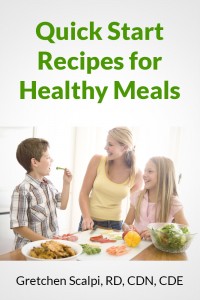 Quick Start Recipes for Healthy Meals
Buy for your Kindle on Amazon.com or buy for other e-readers at Smashwords!
My nutrition and wellness clients may understand that they need to eat healthier but they are often too busy or tired to cook at home. This means that they rely too much on eating out and besides the increased calories that comes with this the missing piece is time with family around the table with family.
This e-book contains 21 of my favorite, easy-to-make recipes that are nutritious and healthy for you and your family. If you are watching your weight, have diabetes, or pre-diabetes, you will find nutritional and diabetic exchange list information included with each recipes.
The recipes include:
Breakfasts
Soups
Salads
Main Dishes
Vegetables
Desserts
When you cook at home using these simple recipes you will:
Understand exactly what ingredients you are consuming.
Decide on what seasoning too use.
Choose your own portion sizes.
Save money over fast or restaurant food.
Have a better chance at losing weight and getting healthier.
Review:
"Quick Start Recipes For Healthy Meals is written by Gretchen Scalpi. This is an insightful book, which introduces a consumer to a healthier and less expensive way of preparing and eating foods. People in general are often drawn to a meal that is quick and easy, thus leading them to consume take out or restaurant prepared foods. The author, being a Registered Dietitian & Certified Diabetes Educator, teaches the reader the importance of healthy eating.
Eating right and consuming fewer fats and calories can establish a healthy weight loss routine or a weight stabilization plan. Take out foods or restaurant prepared foods are often very high in fat content which provides more calories than needed for a person to consume. Within the pages of the book, the author gives tips and full descriptive recipes for healthy, low calorie and tasty foods.
Quick Start Recipes for Healthy Meals provides the consumer with an interesting selection of breakfast, lunch, dinner, and even dessert-snack recipes. These recipes include most of the food pyramid: dairy, vegetables, fruits, poultry, red meat, fish, and even some low fat content sweets. Two of the most intriguing aspects of the book is that the author provides a complete nutrition facts chart with each recipe along with the ingredients needed to exchange with others to make the meal diabetic friendly."
Reviewed by Michelle Robertson for Readers' Favorite (Used with permission from author and Readers' Favorite).