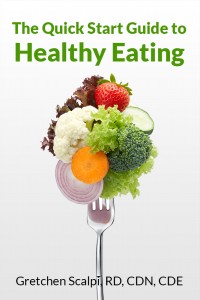 The Quick Start Guide to Healthy Eating
Save time, save money, and eat better!  You can purchase the paperback book from Amazon.com and purchase the e-book at eBookIt.
Eating right is the key to maintaining good health, but learning how to change bad eating habits can seem difficult or overwhelming. In this clear, concise, and reader-friendly book by nutrition author and entrepreneur Gretchen Scalpi, you'll discover:
The facts and myths about many so-called healthy foods
Money saving tips at the grocery store
How to organize your pantry to have the right foods on hand
Cooking techniques and culinary shortcuts for eating well on a budget
Convenience foods that are healthy
Kitchen appliances that are time-saving
Tips for getting kids to eat healthy meals and snacks… and much more
Forget fast food and put down that take-out menu! Making quick and nutritious meals at home is easier than you think… this book shows you how. Learn simple solutions, strategies and shortcuts to help you and your family find your way back to healthy eating.
The Table Of Contents includes:
Introduction
Healthy Eating And Nutritional Myths
The Basics Of A Healthy Diet
Make It Easy To Eat Healthy
Quick Meal Prep Tips
Tips To Get Kids Eating Healthy Meals
Save Money While Eating Healthy
Put Variety Into Your Meals
Healthy Eating For Special Diets
Six Week Quick Start Guide
Appendix A: Food Safety
Appendix B: Pathogens That Cause Foodborne Illness
Appendix C: Stock Recipes
Appendix D: Easy Healthy Meals and Snack Recipes
Appendix E: Mix & Match – Meal Planning Success
Appendix F: Low Sodium Spice Mixes
Appendix G: Spice/Food Combinations
Appendix H: Low Fat Gravies and Sauces
Appendix I: Oven Roasted Vegetables
Appendix J: Leaner Cuts of Meats